A Southern Soul food revival
Moe's Original Bar B Que was founded by three Alabama boys: Ben Gilbert from Athens, Mike Fernandez from Tuscaloosa, and Jeff Kennedy from Huntsville. After meeting at the University of Alabama in Tuscaloosa, they instantly became friends and had a mutual interest in all things Southern: BBQ, blues, college football, and whisky.
In 1988, Mike hooked up with Moses Day in Tuscaloosa and began learning to fire roast meats. When Moses fired up his backyard barrel pit, everyone in T-Town knew where to go. The boys were lucky to learn from Moses and his distinct style makes up Moe's original flavor of BBQ.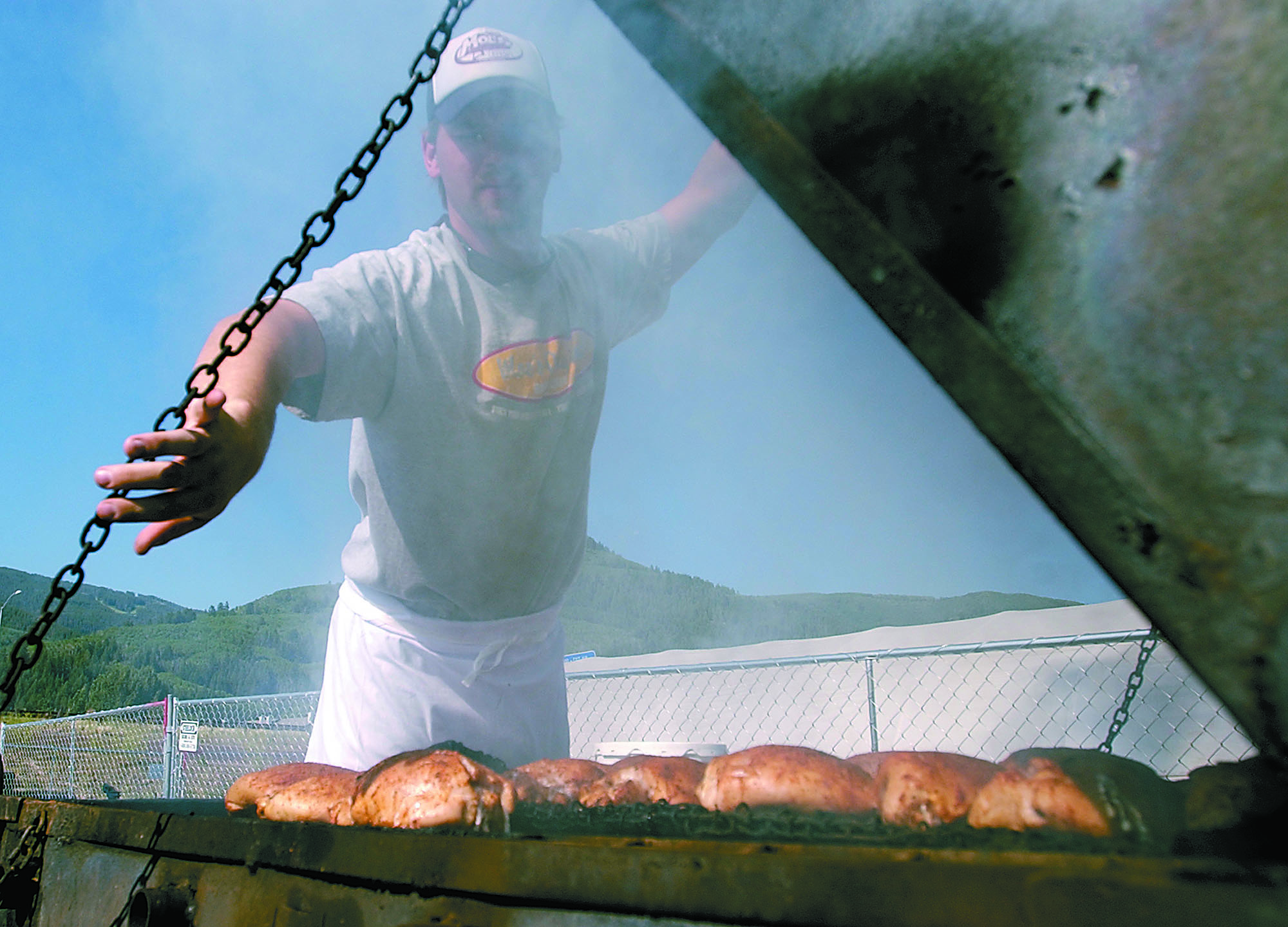 Where there's smoke, there's fire
Loving the mountains, the guys eventually all landed in Vail, Colorado and refined the cooking skills they had learned over the years. By using fruit wood to smoke the meats fresh daily and hitting it with two sauces, they knew they had something special. Unlike other BBQ joints, Moe's Original BBQ doesn't stop there as Southern style side dishes and desserts are prepared daily from recipes passed down for generations.
Moe's Original BBQ is a Southern soul food revival where great food is served in an atmosphere that is relaxed, spontaneous, yet civilized….well, sometimes.
Moe's Original BBQ Timeline
Summer/Fall 2001 - Minturn, CO
Using the Cougar Ridge Café in Minturn as our first venue, we roasted our meats on a charcoal grill at Jeff Kennedy's doublewide on the river. Not glamorous, but it was the start of Moe's Original Bar-B-Que (MOB).

All running separate restaurants, we built a $600 pit out of Randy Quintana's junkyard and began catering. Our first gig was serving chocolate covered strawberries and the second was pork at a Jewish wedding. It was a strong start!
Summer 2002, 2003, 2004 - The Tin Top, Edwards/Eagle-Vail, CO
In the winter of 2001-02, the catering proved successful. We bought a 40 foot gooseneck, hay trailer and converted it into a Health Department certified BBQ concession trailer. We decked it out with a tin roof and barn wood siding. With hay bales for seats and wire spools for tables, we set up shop on the street corner in Edwards, CO. We sold out of BBQ 100 days straight and continued this for two more summers on various corners. We now had a product that people craved.

Ski Season 2002-2003 - Lionshead Tin Top
In the winter of 2002 we found a carry out restaurant for sale in Lionshead Village. We bought it turn key for $7,000. Well, turn key to an extent. There was no kitchen and only nine seats, but it worked. We smoked our meats outside all winter. At this point, we were now in business year-round. Moe's Original Lionshead Tin Top helped to put the Western slums of Lionshead back on the map.
Vail Resorts invited MOB to sell BBQ at the base of Beaver Creek Mountain. At this point, we were selling BBQ to a vast audience at two world class ski resorts.

Winter 2005 - Lionshead Village, Vail
We retrofitted this 1,500 sq ft restaurant and bar into a favorite dive year round. It is fully self-sufficient with a Southern Pride 300 pound Smoker which was the first wood burning appliance allowed in Vail in 11 years...thanks to the town officials being huge fans of MOB.

Summer 2005 - Eagle, CO
Located in a strip mall above a bowling alley, we designed and built this restaurant from the ground up. It was the ideal MOB layout with a completely open kitchen. A Southern Pride 700 enabled us to cook enough meats even in our busiest catering season. This was the first year round restaurant. After completing a five year lease at this location, we decided we had outgrown the strip mall. We redeveloped an old gas station on Highway 6 into our new prototype restaurant model. Taking all our ideas from the past restaurants, we built our perfect Moe's Original Bar-B-Que that is a neighborhood roadhouse on the West side. This smart move will continue to be our training grounds and home base for Moe's Original Bar-B-Que global takeover.
Today and Tomorrow
Today our unique brand of BBQ is being served up in over 60 locations nationally and now internationally, owned and operated by some of our closest friends and partners. Moe's is constantly turning out new "pit masters" to follow their dream of becoming successful business owners and carrying on great times and traditions made around the kitchen and the fire.